In 2001, Adonal Foyle founded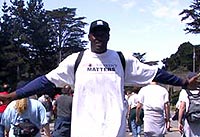 Democracy Matters to give college students a voice in the pro-democracy movement and an active role in the national dialogue on campaign finance reform. With an active presence on over 50 college campuses nationwide, Democracy Matters involves hundreds of students and faculty in focusing on issues of campaign finance reform. Through teach-ins, letter writing and petition campaigns, educational seminars, voter registration drives, and work with high school students and others in local communities, Democracy Matters students develop leadership skills that can help to deepen our democracy.

"Introduced to basketball at age 15, Mr. Foyle became, in order, athlete, immigrant, star, scholar, National Basketball Association player, labor activist and, soon, United States citizen. Now, add another improbable activity to the list: crusader for campaign finance reform."
The New York Times

Democracy Matters is part of Adonal's deep commitment to improving the society in which he finds himself. As President, he serves as a committed and articulate advocate for the political engagement of young people and for the movement to get private money out of politics. In his words:
Democracy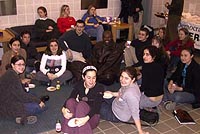 Matters gives young people a voice in the growing concern over how big money undermines our democracy. We believe that young people with creative energy can make great waves in changing the society in which they find themselves.
I decided to start this organization specifically because I think that there's a sense of hopelessness among young people. And I wanted to show them a way to work to change the system - to fight the system from the inside. So, fighting from the inside, to me, is one of the great virtues of Democracy Matters. By trying to change the way campaigns are financed, you are getting to the root of many problems in our society.
We basically started this organization at Colgate University. After that, it spread to other campuses across the United States. Now, we're at over 50 campuses. Our goal is, basically, to form a grass-roots movement of young people with a desire to deepen democracy by changing the way elections are financed in this country. If we can do that, and if we can restore faith in government for our generation, we will have been successful.
I think it's extremely important to be involved in politics. When you understand how money has completely dominated the political system, you know that most people's voices are silenced. But there is a chance to be heard by becoming politically active with Democracy Matters.
I hope you will get involved too. Just go to www.democracymatters.org and read what we're doing in different states - like Maine and Arizona, New York and California - in the beginning stages of public funding of elections, so that everyone can have a voice in their government.
And you can contact the Democracy Matters organization through their "Contact US" page as well.
Stand up and speak out for democracy.


"He's a pro basketball player who holes up with his political theory books on road trips; a millionaire who wants to curtail millionaires' political influence; and a self-made man who sees our democracy with fresh eyes. You gotta love him."
The Oakland Tribune

Read these published pieces by Adonal:
So What Does NBA Basketball Have to do With Campaign Finance Reform Anyway?
My Generation is Far From Apathetic