Foyle Lauches 'Read to Achieve International' Program Back In Home Islands
As the NBA grows larger and larger into an international commodity, its community service programs continue to reach out to those all around the world.
With the NBA Read to Achieve program a stellar success in the United State, Golden State Warriors center Adonal Foyle took the first step into making it an international event of its own.
Foyle, a native of the island of Canouan, St. Vincent and the Grenadines, returned to his homeland last month to hold the first-ever Read to Achieve program outside the U.S.
The event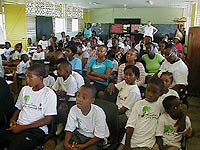 was held July 30 at Canouan Government School, Adonal's former elementary school. He, along with friends and family, got together to read books to over 30 children in attendance.
He, along with three others, spent the day reading to children and handed out new books and supplies to fulfill their learning needs. Members of the St. Vincent government were also on hand to welcome Adonal during the event.
Growing up in the islands, Foyle was able to let his imagination run wild, thanks to a good book in hand. Now, after establishing himself as one of the league's top shot-blockers, Foyle not only keeps his books close to him, but also is making a big push for the younger generation to do the same.
"I think when you find yourself in almost any situation, there's almost always a way out of it," Foyle said. "Whether you're poor or rich, going to the library and having access to a book can take you to so many different places. You can meet people who are dead, people who are alive, you can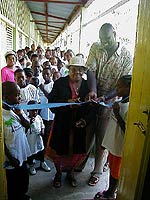 meet people who have fundamentally changed society. You can take it to so many realms, you kind of have an amazing way to escape and at the same time talk to people as if they were alive."
In recent years, the concept of reading books was somewhat forgotten, thanks to the rise of interest in television as well as the Internet. Foyle finds it surprising that what he considers a joy is often looked at as unusual.
"I think with television and how much it has been catered to young people, they don't think it's cool to just try and relax with a book," Foyle said. "I remember when it used to be really nice to get a cup of tea, get under the sheets and read a good book. Nowadays, people consider that very unusual. Now, people go under the sheets with a cup of tea and a remote. The passion for reading no longer exists and it's kind of a mystique that it has."
At the end of the day, the children of Canouan were presented with the 'Adonal Foyle Reading and Learning Center'. The center was unveiled to provide children with even more books, computers and other materials, feeding their hunger for knowledge.
- Chris Navalta for AFE