The 2004 Presidential Campaign
By Adonal Foyle, with Chris Navalta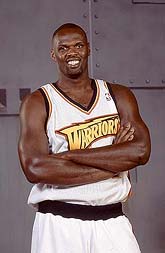 Along with our recent weather, the presidential race has been heating up. It looks like John Kerry will be getting the nod as the Democratic nominee to go against President Bush in November. But for the past few months, I thought that there was a wonderful debate amongst all of the other candidates.
In terms of strategy, the Democrats have really put out a very intriguing several months of political engagement. By having people like Dennis Kucinich and the Rev. Al Sharpeton representing the Democratic Party, it has opened up the platform in a way that gives the Democrats more range. Instead of one guy picking at Bush, you had about seven, nine or even ten different people picking at him over several months. It gave the American people a more complete look at the depth of the Democratic Party. All nine of them couldn't be wrong. It also opened up the political debate for a lot of our citizens.
Dennis Kucinich was the type of candidate that would be willing to do anything for the people at any cost, and I thought that was refreshing. And then you have Al Sharpeton, who would call you out and really put your feet in the fire to really and truly defend your position. His one-liners are classic, obviously. But more than that, Sharpeton moved the debate from the middle more to the left. You get the sense that if there had been only two candidates jousting with each other, we wouldn't have gotten the kind of debate that we have been fortunate to see. It has been quite terrific. I was very impressed.
I also think that, now, voters are going to be well aware of the consequences of their actions and this has become evident with the controversy surrounding Ralph Nader's entry into the race. I think both parties saw what happened when he ran for President four years ago, and in light of that, people will be more cautious when they vote this time around.
Even though he's been out of the race for weeks, I still can't help but think about Howard Dean and his quick rise to the top and even faster crash. When he dropped from the race, I wasn't surprised, considering Kerry was pulling so far ahead. But what surprised me is how it happened. Let's look at the premise that what he did was unpresidential (you know what I'm talking about – his scream speech). There is just something very silly about the notion that a candidate drops to such a low by just screaming. To me, there is just something wrong with that. All he was trying to do was rally the troops and rally his base of support. He had come in third that day and so all he wanted to do was encourage his people. I imagined it as someone being on a football team, trying to cheer for his team and telling them to come back. He probably thought about what he did the following day and felt bad about it. But it was too late because everyone started attacking him.
It just shows that when you're in politics, everything can be determined by one thing – even if it is just a scream. It wasn't like he offended anybody. And he certainly didn't hurt anybody. All he said was that he was going to win at all the other states – in a loud way. And the way he started falling in the polls, I thought that was pretty cheap. And that says a lot about our political system, when something like that can get a candidate out of the race. Considering the other things he might have done in politics, THAT is just truly incredible.
In the business of politics, it's all about image. It has nothing to do with truth and honesty and all that kind of stuff. It's all about how a politician lives. Their lives are pretty much manipulated to meet with public approval. And that's pretty terrible.