SSri Lankan Tsunami Crisis (2005)
By Adonal Foyle
| | |
| --- | --- |
| | Adonal hiking in Sri Lanka |
I was greatly saddened to hear the news of the devastating tsunami that has taken so many lives in the South Asia region. I have especially close ties to Sri Lanka, as my girlfriend is from there, and I have spent some lovely holidays on the island (known as "the Pearl of the Indian Ocean"), now ravaged by the tsunami.
Of the nations hit by the tidal wave, Sri Lanka - located south of India, was the second-worst affected. Over 5% of the population are in distress, with approximately 48,000 people dead and over 1 million people homeless. I was relieved to hear that my girlfriend (who was there for Christmas) and her family were okay, but this is small comfort in the face of how many people have been impacted. In my visits to the country, I was always touched by the warmth and friendliness of the people there, despite the poverty and hardship they endure.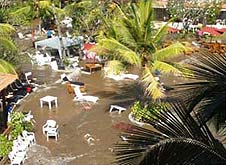 What the Sri Lankan need urgently is money to provide for their immediate needs in the face of this tragedy - food, shelter, and clothing. My girlfriend has started Rebuild Sri Lanka - which is working at a very local level to help the immediate needs of one community at a time, while setting up the infrastructure for more long term solutions. The group have taken on a community of 500 families on the East Coast, and are doing some excellent work, providing Family Food Packs, building temporary shelters, and planning the construction of permanent homes. But we need your help!
These are very distressing times indeed, but hope has shown itself in the way the rest of the world is reaching out to the victims of the disaster. The US dollar goes a long way in a country like Sri Lanka, so let's put it to good use!
How to Donate
Please make checks payable to the International Conservation & Education Fund* (indicate Rebuild Sri Lanka in the memo section), and mail them to:
Rebuild Sri Lanka,
c/o Shiyana Valentine, 1741 Lanier Pl. NW, #2, Washington DC 20009.
*All contributions are tax-deductible – Rebuild Sri Lanka is operating under the 501(c)(3) non-profit status of the International Conservation & Education Fund (www.incef.org).
How Your Money will be Spent
Family Food Packs - US$20,000 for 1,000 packets, each feeding approximately 5 people.
Temporary Shelters - US$20,000 to shelter approximately 600-800 families.
Permanent Housing - US$1,200,000 to build approximately 600-800 families.
For further information please visit Rebuild Sri Lanka's website: www.rebuildsrilanka.org or e-mail Shiyana Valentine.