Since entering the NBA, Adonal Foyle had a vision of sharing his gift of basketball talent with as many children as he could.
In 2003, he took a huge step with the development of his Summer Island Camps in his native St. Vincent and the Grenadines. These events brought a top-flight basketball camp to the islands.
With the success of the Caribbean efforts, he created a US entity that would combine both his passion for basketball and his love for academics into one unique setting.
SUMMER ISLAND BASKETBALL CAMPS:
Each July, Adonal returns home to St. Vincent and the Grenadines to hold his annual Adonal Foyle Island Basketball Camp. The week-long series of camps, held on mainland St. Vincent, Canouan, Union Island and Bequia help children obtain better knowledge of the sport in an island where soccer and cricket are the main outdoor activities.
Led by Adonal and a staff of US based volunteers, the camps take a holistic approach touching the areas of health, social skills, athletics and the importance of education. Each child attending the camps recieve one-on-one instruction, counseling and health guidance. In addition, each attendee receives a camp t-shirt and other items that are donated by our many gracious corporate donors.
To learn more about the camps or how you or your company can assist with the tour, please email Jo-Marie Garber at jgarber@adonalfoyle.com or call (510) 292-6275.
Click here to view the Island Camps highlight ree l >

Adonal Foyle Island Summer Basketball Camps (August 2003)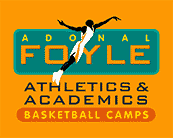 ATHLETICS AND ACADEMICS BASKETBALL CAMPS:
To date, hundreds of Bay Area youth have attended the Athletics and Academics Basketball Camp Series. The two-day camps give aspiring basketball players ages 7-17 a chance to work one-on-one with Adonal (as well as members of his staff) and learn the values of life both on the basketball court and in the classroom.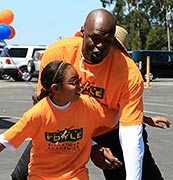 Click here to view the basketball camp video presentatio n >
To learn more about the US camps, including sign-up information, locations, sponsorship or scholarship information, please email Michael DeGrazia at mdegrazia@adonalfoyle.com or call (510) 828-8973.